EUA: Obama considera ataque a discoteca "o mais mortífero tiroteio da história" do país
Comentários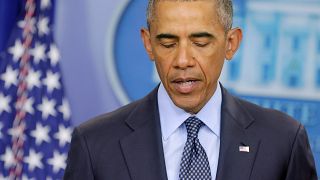 O presidente Barack Obama, num discurso claramente emotivo, classificou o ataque à discoteca Pulse, em Orlando, como sendo o mais mortífero tiroteio da história dos Estados Unidos da América.
"Este é um dia de desgosto para todos os nossos amigos, para todos os norte-americanos, que são lésbicas, gays, bissexuais ou transgéneros … Este é um lembrete de que os ataques a qualquer americano, independentemente da raça, etnia, religião ou orientação sexual, é um ataque contra todos nós e contra os valores fundamentais da igualdade e dignidade que nos definem como país. Nenhum ato de ódio ou terrorismo vai mudar quem somos ou os valores que nos tornam norte-americanos.
"This was an act of terror and act of hate." —POTUS</a> on the tragic shooting in <a href="https://twitter.com/hashtag/Orlando?src=hash">#Orlando</a> <a href="https://t.co/i7fOS38GzH">https://t.co/i7fOS38GzH</a></p>&mdash; The White House (WhiteHouse) June 12, 2016
Este dia marca o tiroteio mais mortífero da história dos Estados Unidos. O atirador foi, aparentemente, armado com um revólver e uma espingarda de assalto poderosa.
Este massacre é, portanto, mais um lembrete de como é fácil alguém colocar as mãos numa arma que lhes permita disparar contra pessoas numa escola ou num templo ou num cinema ou numa discoteca. Temos de decidir se é esse o tipo de país que queremos ser", interroga Barack Obama.
"We stand with the people of #Orlando who have endured a terrible attack on their city." —POTUS</a> <a href="https://t.co/i7fOS3qhYh">https://t.co/i7fOS3qhYh</a></p>&mdash; The White House (WhiteHouse) June 12, 2016