Equipa Europa e Canadá defrontam-se na final do Mundial de hóquei no gelo
Comentários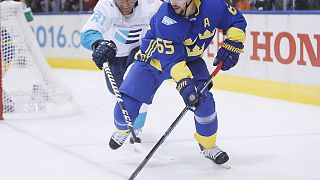 A equipa da Europa bateu, em Toronto, no Canadá, a Suécia e está na final do Mundial de Hóquei no gelo. Mas, mais uma vez, não foi fácil bater os suecos, umas das melhores equipas do mundo.
A Suécia acabaria, aliás, por ser a primeira a marcar, mas no segundo período. Nicklas Backstrom abriu o marcador aos 2'31'' do segundo tempo.
1-0 Sweden – Anton Stralman (H. Sedin, D. Sedin) #SWE#FIN#WCH2016pic.twitter.com/fnsUpZeI5u

— Robert Söderlind (@HockeyWebCast) 20 de setembro de 2016
Seria preciso esperar até aos 16'27" para que a equipa Europa, por Marian Gaborik, empatasse a partida.
Já no terceiro período Tomas Tatar poria a Europa em vantagem, 2-1, aos 12", este seria o melhor golo do jogo. Aos 15'29" a Suécia empataria a partida, por Erik Karlsson.
Tomas Tatar has actually found the net twice today. #TeamEUR#WCH2016pic.twitter.com/eebeu8ey9W

— Team Europe (@TeamEUR_WCH) 25 de setembro de 2016
No terceiro tempo Tomas Tatar voltaria a marcar e poria fim ao sofrimento da equipa Europa. Com uma vitória de 3-2 a equipa europeia das oito Nações chegava à final do Mundial de Hóquei no gelo, na qual defrontará, em três partidas, o Canadá.
In case you live under a rock, here's Nathan MacKinnon making Sweden look silly https://t.co/uj6CqIazt0

— World Cup of Hockey (@WCoHnews) 23 de setembro de 2016
A equipa Europa é composta por jogadores da Eslováquia, Dinamarca, Alemanha, Suíça, Eslovénia, Áustria, Noruega e França.
The boys sure know how to celebrate. #TeamEUR#WCH2016pic.twitter.com/G9SW9Wz4g1

— Team Europe (@TeamEUR_WCH) 25 de setembro de 2016