Obama envia condolências por Castro, Trump lembra "ditador brutal"
Comentários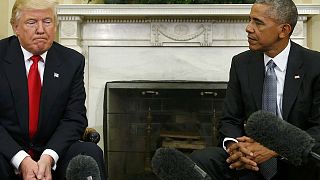 Barack Obama, obreiro da reconciliação entre Cuba e os Estados Unidos, enviou condolências ao povo cubano pela morte de Fidel Castro, mas não especificou se algum representante da administração americana vai estar presente no funeral. No comunicado, lembrou o impacto deixado por Fidel Castro na história.
When #FidelCastro ships spotted tugboat full of refugees on July 1994, blasted it to pieces with high-pressure fire hoses. 41 refugees died

— Marco Rubio (@marcorubio) November 26, 2016
Obama restabeleceu as relações diplomáticas com Cuba e levantou, em parte, o embargo económico. Já o presidente eleito Donald Trump limitou-se a escrever no Twitter que Fidel Castro morreu.
Fidel Castro is dead!

— Donald J. Trump (@realDonaldTrump) November 26, 2016
A equipa de Trump emitiu depois um comunicado em que diz que "Castro foi um ditador brutal que oprimiu o povo cubano durante quase seis décadas".
Durante a campanha, Trump tinha deixado no ar que poderia reverter as reformas de Obama no que toca às relações com Cuba.
Cuba, de onde milhões de pessoas se exilaram nos Estados Unidos, em especial na Florida. O senador de origem cubana Marco Rubio, candidato às primárias republicanas, lembra também que Castro foi um "ditador malévolo e assassino". Recordou vários episódios de mortes de refugiados e opositores e outros atropelos aos direitos humanos.
When #FidelCastro ships spotted tugboat full of refugees on July 1994, blasted it to pieces with high-pressure fire hoses. 41 refugees died

— Marco Rubio (@marcorubio) November 26, 2016
History will remember Fidel Castro as an evil, murderous dictator who inflicted misery & suffering on his own people pic.twitter.com/Y7207S6qVD

— Marco Rubio (@marcorubio) November 26, 2016