Presidente da Gâmbia regressa do curto exílio para governar
Comentários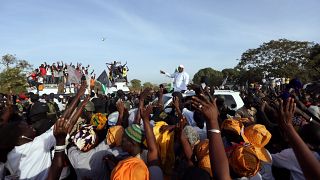 O novo presidente da Gâmbia está de regresso ao país, depois de se ter refugiado no Senegal por uma questão de segurança, depois de ter recebido ameaças de morte.
Adama Barrow aterrou na capital, Banjul, com a promessa de mudar o rumo do país depois de 22 anos e meio de poder absoluto do antecessor Yaya Jammeh.
No aeroporto, foi recebido por uma multidão. Anunciou o regresso ao país através do Twitter.
I am finally reunited with my fellow Gambians. #Gambiapic.twitter.com/DyO0H1DtOJ

— Adama Barrow (@adama_barrow) January 26, 2017
His Excellency, President Adama Barrow arrives at Banjul International Airport, welcomed by #Gambians with great enthusiasm #NewGambiapic.twitter.com/C5PtYX8zgG

— Adama Barrow (@BarrowOfficial1) January 26, 2017
A tomada de posse deu-se na embaixada da Gâmbia no vizinho Senegal. Embora curto, este exílio forçado foi doloroso para Barrow. Durante o período, o filho foi morto por cães e o novo presidente não pode assistir ao funeral.
Chega Barrow, sai Jammeh: O ex-presidente já está na Guiné Equatorial e não foi de malas vazias, terá levado 11 milhões de euros dos cofres do país.
Jammeh tinha inicialmente reconhecido os resultados do país, mas depois recusou-se a deixar o poder, até ter sido coagido pelo exército. Para garantir a segurança do país, Barrow pediu que as tropas da Comunidade de Estados da África Ocidental (CEDEAO) possam ficar mais seis meses.