Venezuela: Milhares pedem a libertação de Leopoldo Lopez
Comentários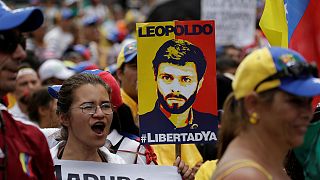 Milhares de venezuelanos saíram às ruas de Caracas, esta sexta-feira, em protesto contra o regime de Nicolas Maduro.
Os manifestantes exigem a demissão do presidente e a libertação dos ativistas políticos, como Leopoldo Lopez.
Venezuelan opposition activists march to Leopoldo Lopez' jail https://t.co/6×8q9luXg1

— Reuters Top News (@Reuters) April 28, 2017
O protesto desembocou em frente da prisão de Ramo Verde onde o oposicionista está encarcerado há mais de três anos.
"Disseram-nos que o Leopoldo está incomunicável, que está em isolamento, que não podemos visitá-lo e, dizem-nos que nem sabem quando poderemos visitá-lo, outra vez. Há mais de um mês que não sabemos nada. O Leopoldo está sequestrado pelo regime de Nicolas Maduro, pelos militares", afirma a mulher de Leopoldo Lopez, Lilian Tintori.
A marcha ocorre numa altura em que se intensificam os protestos contra Nicolas Maduro.
Sea of protestors headed to #RamoVerde prison to demand freedom for leopoldolopez</a> and other <a href="https://twitter.com/hashtag/Venezuela?src=hash">#Venezuela</a> political prisoners. <a href="https://t.co/hRnl5fKQUU">pic.twitter.com/hRnl5fKQUU</a></p>&mdash; Antonio Mora (AMoraTV) April 29, 2017
28 pessoas morreram, desde o início de abril, em consequência de confrontos entre os oposicionistas e as forças de segurança. Mais de 1300 pessoas foram detidas.