Trump, Putin e a conversa adicional durante a cimeira do G20
Comentários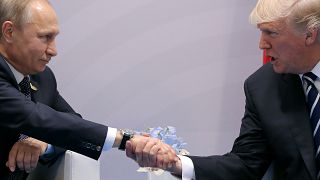 As imagens do encontro formal entre Donald Trump e Vladimir Putin, acompanhados pelos respetivos ministros dos Negócios Estrangeiros, em Hamburgo, correram mundo mas só agora se sabe que afinal os dois líderes se voltaram a encontrar durante um jantar, na última noite da cimeira do G20.
A Casa Branca confirmou, esta terça-feira, uma conversa adicional, perto do final de um jantar, entre os dois chefes de Estado, mas a divulgação já está a gerar polémica porque se desconhece o teor da conversa e a razão de só agora se tornar pública.
Como de costume, Trump recorreu às redes sociais para dizer que "a falsa história de jantar secreto é 'uma loucura". Acrescentou que "todos os membros do G20 e cônjuges foram convidados pela chancelaria alemã e que a imprensa sabia."
Fake News story of secret dinner with Putin is "sick." All G 20 leaders, and spouses, were invited by the Chancellor of Germany. Press knew!

— Donald J. Trump (@realDonaldTrump) July 19, 2017
Referiu ainda que "estas informações falsas são cada vez mais desonestas. Até mesmo um jantar organizado para os 20 principais dirigentes mundiais na Alemanha é apresentado de forma a tratar-se de qualquer coisa sinistra."
The Fake News is becoming more and more dishonest! Even a dinner arranged for top 20 leaders in Germany is made to look sinister!

— Donald J. Trump (@realDonaldTrump) July 19, 2017
Depois da polémica revelação, o presidente dos Estados Unidos anunciou, esta terça-feira, querer nomear o antigo governador do Estado do Utah, Jon Huntsman, para embaixador dos Estados Unidos na Federação Russa.
A confirmar-se, Huntsman irá ocupar o cargo num período turbulento em que as atenções estão voltadas para os contactos efetuados entre agentes russos e a campanha eleitoral de Donald Trump. O antigo governador já foi embaixador em Singapura, durante a Presidência de George H.W. Bush, e na China, ao serviço do democrata Barack Obama.