Ataque suicida numa mesquita afegã de Herat provoca mais de 20 mortos e 30 feridos
Comentários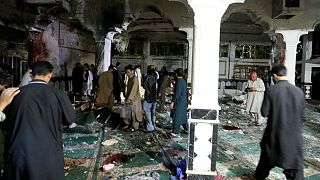 Um ataque a uma mesquita xiita na província afegã de Herat matou pelo menos 20 pessoas.
Por volta das 20 horas locais, um bombista suicida fez-se explodir no recinto, enquanto um outro disparava sobre as pessoas. Ambos foram abatidos no local.
#AFG The mosque was packed with almost 1,000 worshippers. My eyes just see dead bodies and blood everywhere. This is a massacre,

—

BILAL

SARWARY

(@bsarwary) 1 de agosto de 2017
Mais de 30 feridos foram transportados da mesquita de Jawadia para o hospital.
A autoria do ataque ainda não foi reivindicada.
A explosão acontece um dia após o ataque à embaixada iraquiana em Cabul, reivindicado pelo Daesh e que matou duas pessoas.