Ex-vice líder exorta militantes a abandonar o al-Shabaab
Comentários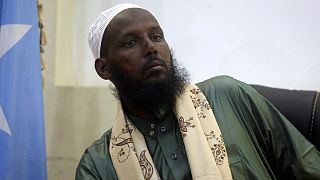 Muktar Robow Abu Mansur, o antigo vice-líder do grupo extremista da Somália, al-Shabaab, exortou os militantes a abandonarem a organização.
Abu Mansur saiu do grupo em 2013, tendo-se mantido escondido na floresta da Somália. Os militantes radicais perpetraram vários ataques, tentando eliminá-lo.
Mukhtar Robow Abu Mansur holding press conference. He cut ties with Alshabab. A man with lots of blood on his hands. #Mogadishupic.twitter.com/DSWNGAVIiC

— SomaliaNews (@SomaliaNews252) August 15, 2017
O antigo porta-voz do grupo jihadista alega que o al-Shabaab não representa os interesses que afirma defender. "Deixei o al-Shabaab há cinco anos e sete meses. Exorto os militantes a deixarem o al-Shabaab. Deixei o al-Shabaab em desacordo e porque discordei das crenças deles que não servem a religião islâmica, as pessoas ou o país. Agradeço ao Governo e aos seus amigos internacionais que desempenharam um papel nesta questão, até este ponto", diz.
A deserção de Abu Mansur ocorre dois meses após os Estados Unidos da América terem retirado uma recompensa de cinco milhões de dólares pela sua captura, retirando-o, também, da lista de apoiantes do terrorismo.
A Human Rights Watch pediu ao Governo somali para abrir uma investigação sobre os alegados abusos dos Direitos Humanos perpetrados por Abu Mansur.
August 15, 2017