Morreu o primeiro curdo a chegar à presidência do Iraque
Comentários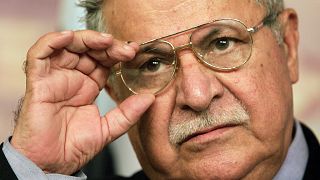 Morreu Jalal Talabani, antigo chefe de Estado do Iraque e dirigente curdo. O veterano da luta curda faleceu, esta terça-feira, num hospital de Berlim. Tinha aos 83 anos.
Very saddened to hear Mam #JalalTalabani has passed away #Kurdistan lost a great leader & a true statesman.Sincere condolences to his family pic.twitter.com/U8XaSmT9Mc

— Falah Mustafa (@FalahMustafa) October 3, 2017
De acordo com a família, Talabani foi transportado para a Alemanha antes do referendo sobre a Independência do Curdistão iraquiano, a 25 de setembro, devido a problemas de saúde.
Em 2005 tornou-se o primeiro curdo a subir à presidência do Iraque, dois anos depois da invasão que pôs fim ao regime de Saddam Hussein. Demitiu-se em 2014 na sequência de um acidente vascular celebral.
Talabani nasceu em Erbil e liderou a luta pela autodeterminação dos curdos à frente de uma das principais fações a, UPK União Patriótica do Curdistão.
We are saddened for Mam Jalal Talabani's pass away. Kurdistan in this juncture needed more than before his wisdom and excellent cooperation with Presdient Barzani to lead post referandum process. Rest In Peace pic.twitter.com/swIeCtxVzU

— Hemin Hawrami (@heminhawrami) October 3, 2017
Fluente em árabe, persa e inglês, além da língua materna, era visto como uma figura unificadora, capaz de estabelecer pontes entre curdos, xiitas e sunitas.