Al-Shabaab reivindica duplo atentado em Mogadíscio
Comentários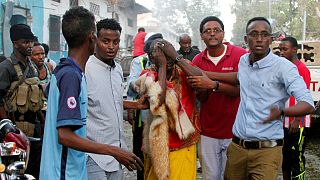 A milícia islamita Al-Shabaab reivindicou o duplo atentado suicida que atingiu esta tarde a capital da Somália.
Duas viaturas armadilhadas explodiram frente aos portões do hotel Naasa Hablood antes de um grupo de homens armados irromper no edifício, frequentado por políticos e militares.
Explosion in #Mogadishupic.twitter.com/jlUgsTlzj7

— Liban Abdi Ali (@LibanAbdiAli) October 28, 2017
Photos from the scene of the two VBIED explosions. #Mogadishupic.twitter.com/7f0dNkf6nf

— Harun Maruf (@HarunMaruf) October 28, 2017
O grupo islamita afirma ter vitimado dezenas de pessoas, quando as primeiras informações falam de mais de uma dezena de mortos, entre os quais um responsável da polícia e um ex-deputado.
A ação ocorre duas semanas depois da capital da Somália ter sido abalada por um ataque com um camião armadilhado que vitimou mais de 350 pessoas.