Vocalista dos Eagles of death metal regressa a Paris
Comentários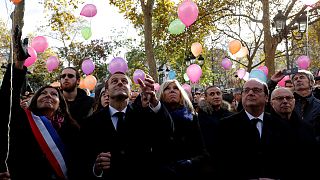 Dois anos depois dos atentados França, e o vocalista dos Eagles of death metal, relembraram as 130 vítimas dos piores ataques em solo francês desde a II Guerra Mundial.
Durante toda a manhã a comitiva presidencial percorreu os locais visados pelos jihadistas a 13 de novembro de 2015: os cafés Le Carillon, Le Petit Cambodge, La Bonne Bière, Le Comptoir Voltaire e La Belle Équipe e a sala de concertos Bataclan.
O chefe de Estado francês tentou confortar os familiares das vítimas mortais. Entre os presentes, e visivelmente emocionado, estava Jesse Hughes, o vocalista da banda norte-americana Eagles of death metal que atuava no Bataclan quando se deu a tragédia.
Deux ans après.
Nous n'oublions rien. pic.twitter.com/r2IU3CeqJ1

— Emmanuel Macron (@EmmanuelMacron) 13 novembre 2017
Em Saint-Denis Emmanuel Macron, ladeado por diversas figuras de Estado e pelo ex-presidente François Hollande, colocou uma coroa de flores junto à placa de homenagem a Manuel Dias, a vítima portuguesa do ataque no Stade de France. Fez-se um minuto de silêncio antes do presidente francês cumprimentar os familiares do falecido, e de ficar de mão estendida frente ao filho de Manuel Dias que se recusou cumprimentá-lo. Um gesto de "resistência cívica", esclareceu Michaël Dias.
Manuel Dias, 63 ans, Rémois victime des attentats au Stade de France le 13novembre #ParisAttacks cc lemondefr</a> <a href="https://t.co/NHZGe5frFt">https://t.co/NHZGe5frFt</a></p>— Florent Boutet (Florent_Boutet) 1 décembre 2015
Ne jamais les oublier… #13novembre2015#ParisAttackspic.twitter.com/9lxqz17mYS

— Geneviève Machery (@genemachery) 13 novembre 2017