Tartaruga julgada extinta encontrada viva nas Galápagos
Comentários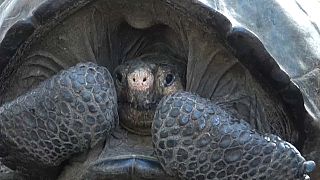 Um espécime de uma tartaruga que se pensava extinta foi encontrada com vida nas ilhas Galápagos.
A tartaruga fêmea gigante foi encontrada na ilha de Fernandina.
O anúncio foi efetuado pelo ministro equatoriano do ambiente, Marcelo Mata, após uma expedição científica à ilha realizada com uma organização norte-americana de defesa do ambiente.
Os especialistas consideravam esta espécie extinta há mais de um século.
00.30 SOT Washington Tapia, director of the Giant Tortoise Restoration Initiative at Galapagos Conservancy (man, Spanish, 21 sec):
"Uma vez confirmada a proveniência genética de que se trata de uma Chelonoidis Phantasticus, isso significa que o estatuto da espécie muda de "extinta" para "extinta na natureza" por enquanto. É então que o Parque Nacional pode iniciar um programa de repopulação da ilha Fernandina com tartarugas, o que seria incrível", afirma Washington Tapia, diretor da organização Iniciativa de Recuperação da Tartaruga Gigante.
Em 2015, as autoridades do Equador anunciaram a descoberta de uma nova espécie de tartaruga, igualmente nas ilhas Galápagos.