Dilúvio na Carolina do sul faz 9 mortos e bate recorde
Comentários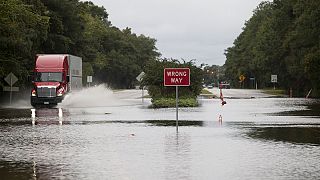 O dilúvio que se abateu domingo sobre a Carolina do Sul, nos Estados unidos, já fez pelo menos 9 mortos. "Se está em casa, fique em casa", avisou o Governador Nikki Haley, em conferência de imprensa, dirigindo-se aos cidadãos.
Nine dead in historic South Carolina rains and flooding: http://t.co/fVNQ3mpqOFpic.twitter.com/uJRoNWZXFj

— Reuters Top News (@Reuters) 5 outubro 2015
Centenas de pessoas foram resgatadas e as equipas de emergência estão a realizar buscas porta a porta à procura de mais pessoas que possam estar ainda retidas pelas águas em casa ou carros. Mais de 500 estradas e pontes foram fechadas.
It's hard to believe, but more rain ahead. Residents urged to stay indoors: http://t.co/gUDxPC2co0#SEFlood#SCFloodpic.twitter.com/Ys1wuNwhge

— Weather Network US (@TheWeatherNetUS) 5 outubro 2015
Este domingo fica para a história como o dia em que mais choveu em Columbia, a capital da Carolina do sul, com o leito do rio Congaree a subir cerca de 3 metros. A chuva vai prolongar-se esta semana no sudeste dos Estados Unidos. "Isto ainda não acabou", alertou Nikki Haley.
.NASA_Rain</a>&#39;s view of record rainfall in South Carolina from Hurricane <a href="https://twitter.com/hashtag/Joaquin?src=hash">#Joaquin</a>: <a href="http://t.co/BoEYwr0a78">http://t.co/BoEYwr0a78</a> <a href="https://t.co/HWDF7kx3pV">https://t.co/HWDF7kx3pV</a></p>&mdash; NASA Goddard (NASAGoddard) 5 outubro 2015