Líbano: Sonny Bill Williams visitou campo de refugiados sírios
Comentários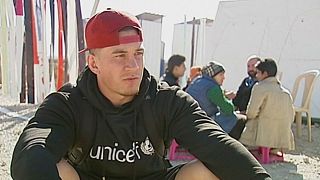 Sonny Bill Williams, a estrela dos All Black visitou um campo de refugiados sírios em Bekaa, no Líbano. O jogador de râguebi, que em outubro ajudou a Nova Zelândia a vencer o campeonato do mundo, é embaixador da Unicef e por isso dedicou esta visita, sobretudo, às crianças que vivem nestes campos. Na maior parte dos casos, sem acesso à educação e a viver em condições de extrema pobreza.
O atleta lembra que "estas crianças iam à escola, tinha uma casa, uma vida normal, como qualquer criança e, de repente, perderam tudo e estão assim, algumas há quatro anos. Não têm nada, lutam para sobreviver. Por isso, quando lhes perguntava o que esperavam do futuro, responderam: apenas sobreviver. É triste."
Please watch tv3 at 7pm to hear the story of these young men struggling with life as refugees TheStoryNZ</a> <a href="https://t.co/yuBZvsVbPC">pic.twitter.com/yuBZvsVbPC</a></p>&mdash; Sonny Bill Williams (SonnyBWilliams) 8 dezembro 2015
Sonny Bill Williams chegou a dizer que esta viagem serviu para lhe mostrar "o quão ignorante" era sobre o tema dos refugiados e que o mundo tem obrigação de fazer muito mais para ajudar estas pessoas.