Cameron: "A Grã-Bretanha não abandona o navio"
Comentários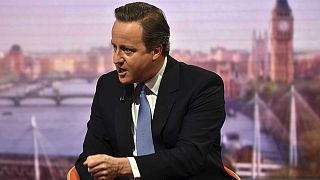 O Reino Unido não pode deixar a União Europeia – diz o primeiro-ministro David Cameron, que insistiu nas más consequências de uma saída, a três dias do referendo em que os britânicos vão decidir se devem, ou não, deixar a União,
O primeiro-ministro é a principal figura no campo do sim à permanência da União. Diz que o país não é de abandonar o navio ("not a quitter", no original) e que, mesmo se a Grã-Bretanha sair, a influência da União Europeia é impossível de evitar.
Britain isn't a quitter. Tonight on #bbcqt I set out the positive case for Britain remaining and leading in the EU:https://t.co/6dEtZ4jH9B

— David Cameron (@David_Cameron) June 19, 2016
Nesta luta, Cameron tem de fazer face a várias personalidades do próprio partido. A figura de proa do campo contrário é o antigo presidente da Câmara de Londres, Boris Johnson.
Este é também um referendo à liderança de Cameron. Se a saída da União Europeia, ou "Brexit", se concretizar, há uma grande hipótese de que Boris Johnson o venha a substituir, tanto na chefia do partido como do governo.
EXCL: "As we say in Brussels, donnez moi a break". Watch BorisJohnson</a> grilled by The Sun Cabbie on <a href="https://twitter.com/hashtag/EUref?src=hash">#EUref</a>; <a href="https://t.co/wmShDXWoq5">https://t.co/wmShDXWoq5</a></p>&mdash; Tom Newton Dunn (tnewtondunn) June 19, 2016
A campanha foi retomada, depois da interrupção de três dias causada pelo assassínio da deputada trabalhista Jo Cox, ativista pelos direitos dos imigrantes e pela continuação na União Europeia.
Nas sondagens, o campo da manutenção na União Europeia voltou a ultrapassar o da saída.