WikiLeaks: Julian Assange entra no quinto ano de reclusão
Comentários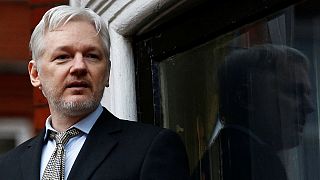 Foi um Julian Assange zangado que assinalou o começo do quinto ano a viver na reclusão da embaixada do Equador em Londres.
Today marks 4th anniversary of #Assange's political asylum at the Ecuadorian Embassy. More: https://t.co/ff800rRCcypic.twitter.com/PdFyJKJtW0

— WikiLeaks (@wikileaks) June 19, 2016
O "ciber guerreiro", de 44 anos, reuniu o apoio de nomes como Brian Eno, PJ Harvey ou Noam Chomsky e manifestações um pouco por todo o território.
Assange criou as WikiLeaks em 2010, com 500 mil documentos classificados como secretos sobre o Iraque e o Afeganistão.
Um pedido de extradição para a Suécia, sob a acusação de violação – que Assange nega – leva-o a manter-se sob asilo da Embaixada do Equador, uma vez que, a acontecer, pode desencadear a ação dos Estados Unidos pela fuga de informação da WikiLeaks.