Solar Impulse termina primeiro voo transatlântico a energia solar
Comentários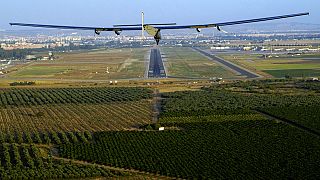 O avião Solar Impulse 2 aterrou esta manhã em Sevilha depois de efetuar o primeiro voo da história sobre o Oceano Atlântico, movido apenas a energia solar.
Uma viagem de 71 horas entre Nova Iorque e o sul de Espanha, marcada apenas por algumas turbulências sobre os Açores para o piloto suíço Bertrand Picard, sozinho aos comandos do aparelho.
BREAKING @bertrandpiccard lands in #Seville completing, in 70h, the 1st #Atlantic solar flight #futureiscleanpic.twitter.com/z8o96ynFDa

— SOLAR IMPULSE (@solarimpulse) June 23, 2016
O piloto partilhou nas redes sociais o momento em que sobrevoava, esta noite, a costa de Faro, no sul de Portugal.
Crossing the coast at Faro after 3 days flying across the #Atlantic Ocean with #Si2pic.twitter.com/jfY2NWVscO

— Bertrand PICCARD (@bertrandpiccard) June 23, 2016
Um dia antes, Picard fotografava igualmente um Iceberg à deriva em pleno Oceano Atlântico.
You will not believe me, but to my right, I see an iceberg in the #Atlantic Ocean. Check it out! #futureiscleanpic.twitter.com/okknTtZRu2

— Bertrand PICCARD (@bertrandpiccard) June 21, 2016
35 mil kms sem uma gota de combustível
Trata-se da 15a escala na volta ao mundo mais ecológica de sempre, iniciada em Março do ano passado nos Emirados Árabes Unidos.
Com um peso de apenas uma tonelada e meia e uma envergadura de 72 metros, superior à de um Boeing 747, o avião desloca-se a uma velocidade média de 50km por hora.
Movido graças à energia fornecida por 17 mil células solares, o Solar Impulse 2 deverá completar, em Abu Dabi, o ponto de partida, uma viagem de 35 mil quilómetros sem utilizar uma gota de combustível.