Morreu Elie Wiesel (1928-2016), escritor sobrevivente do Holocausto e Nobel da Paz
Comentários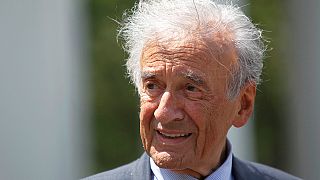 Morreu Elie Wiesel, judeu ortodoxo, natural da Roménia, sobrevivente do Holocausto, activista pelos direitos humanos e personalidade distinguida com o Prémio Nobel da Paz há exactamente trinta anos.
Escritos prolifico, publicou mais de meia centena de livros sobre os horrores vividos pelos judeus na Segunda Guerra Mundial. Há vinte anos, foi eleito para a Academia Americana de Artes e Letras.
Elie Wiesel, 1986 Nobel Peace Prize Laureate and Holocaust Survivor, has passed away at age 87. pic.twitter.com/jp45yaWjRT

— The Nobel Prize (@NobelPrize) 2 de julho de 2016
O livro mais conhecido de Elie Wiesel intitula-se "Noite", foi publicado uma década depois do fim da Segunda Guerra Mundial e traduzido para português. Nele, o autor relata o horror vivido nos campos de concentração de Auschwitz e Buchenwald.
Elie Wiesel, Nobel Peace Prize laureate, #Auschwitz survivor, profific author, dies at 87 https://t.co/1dWuTXzJHx

— Auschwitz Memorial (@AuschwitzMuseum) 2 de julho de 2016
Por várias vezes, o autor questiona em "Noite" a existência de Deus perante a falta de ajuda divina face ao terror imposto pelos nazis aos judeus.
Eli Wiesel morreu este sábado em Nova Iorque. Tinha 87 anos.
Elie #Wiesel, 1928-2016: A look back at the life of a Jewish legend https://t.co/RBjkOoA3oJpic.twitter.com/YjdFT9ux10

— Haaretz.com (@haaretzcom) July 2, 2016