Síria: Alepo continua palco de combates e com habitantes cercados
Comentários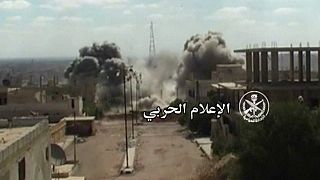 No sábado, os rebeldes sírios conseguiram romper o cerco que as forças pró-governamentais realizavam à cidade de Alepo, o que lhes permitiu uma importante conquista territorial.
Este domingo, os rebeldes ficaram debaixo de fogo intenso das tropas pró-Assad que usaram bombardeamentos aéreos.
Syrian rebels suffer intense air attacks after breaking siege of Aleppo https://t.co/EFuwkyJwgK

— The Guardian (@guardian) August 7, 2016
Os pró-governamentais querem obrigar os rebeldes a recuar e recuperar uma via que lhes é essencial para o reabastecimento.
Sábado, quando os rebeldes revelaram que tinham conseguido acabar com o cerco, muitas pessoas vieram para a rua celebrar.
Entretanto, continua uma luta feroz na área de Ramousah, com ataques aéreos russos e sírios sobre as posições rebeldes.
O que significa que não há uma passagem segura para os habitantes de Alepo poderem sair da cidade que está cercada desde 17 de julho.
Aleppo is at risk of becoming this generation's Srebrenica or Rwanda. https://t.co/JBEbiBpXPopic.twitter.com/s3hlHdduTQ

— Kenneth Roth (@KenRoth) August 3, 2016
Uma coligação de jihadistas e rebeldes anunciou, este domingo, que vai lançar uma batalha para recuperar a totalidade de Alepo.
500 combatentes e 130 civis morreram desde o início da ofensiva rebelde, a 31 de julho, informou o Observatório Sírio dos Direitos Humanos.
Current overview of the situation in #Aleppo after Rebels managed to create a ~2.5 km wide corridor, breaking siege. pic.twitter.com/FHAjv5iHrs

— Qalaat Al Mudiq (@QalaatAlMudiq) August 7, 2016