Líbia: Dezenas de mortos no "assalto final" a Sirte
Comentários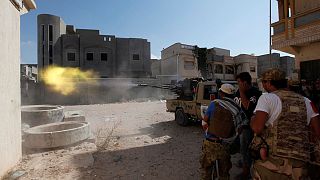 Acumulam-se os mortos na batalha por Sirte. Este domingo, perderam a vida pelo menos 34 combatentes das milícias alinhadas com o governo apoiado pelas Nações Unidas, segundo informou um hospital. Mais de 180 milicianos ficaram feridos.
Further progress in retaking territory from #ISIS in #Sirte, but at great cost in blood of the #Libya ns doing the fighting.

— Jonathan Winer (@jonathanmwiner) August 29, 2016
A ofensiva pelo controlo desta estratégica cidade costeira da Líbia iniciou-se em maio. Desde o inicio de agosto, as brigadas contam com o apoio de bombardeamentos norte-americanos e afirmam ter agora os militantes do autoproclamado Estado Islâmico encurralados em dois bairros da cidade.
Este domingo, as milícias lançaram o que esperam seja o "assalto final" às posições dos jihadistas e para além dos bombardeamentos contaram com o apoio de fogo de artilharia pesada a partir de terra e do mar. O objetivo é libertar Sirte já nos primeiros dias de setembro.
What next for Islamic State in Libya after Sirte? https://t.co/RonO14y7MB

—

BBC

Africa (@BBCAfrica) August 29, 2016