Habitantes de Mossul começam a rumar a campo de Debaga
Comentários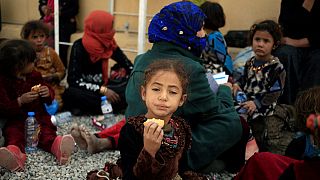 Desde o início da operação Mossul que cerca de 1500 refugiados chegaram ao novo campo de refugiados de Debaga, o lugar para onde estão a ser encaminhados os habitantes da cidade. Esperam-se 5000 famílias, segundo a Associated Press.
What does an #IDP camp in #Iraq look like? This footage from #Debaga will give you an idea https://t.co/wu382bY5XJpic.twitter.com/LjpvrQ78xg

—

AMAR

Foundation (@AMARLondon) 2 de setembro de 2016
Para já, e há medida que a operação avança, teme-se pela vida das 700 mil pessoas que se acredita continuam encurraladas em Mossul.
The health clinic at #Debaga Camp, jointly operated by #IOM+QRCS</a> has provided over 35,000 consultations to displaced Iraqis since June 1. <a href="https://t.co/z19VW2PtCM">pic.twitter.com/z19VW2PtCM</a></p>&mdash; IOM Iraq (IOMIraq) 25 de setembro de 2016
Centenas estão a chegar, diariamente a este campo:
"Chegam aqui, ao campo de Debaga, diariamente, entre 100 e 150 famílias. O que significa entre 600 e 700 pessoas, todos os dias", explica o responsável pelo campo, Ahmad Abdo.
Queueing, eating, sleeping in the sun. Displaced women in #Debaga camp, line up for a bowl of rice for each family. pic.twitter.com/mdVJoJaDuQ

— Raz Salayi (@razsalayi) 10 de agosto de 2016
Os EUA acusam os extremistas de estarem a reter civis na cidade que estão a ser usados como escudos humanos. Os norte-americanos temem ainda que sejam utilizadas armas químicas já que encontraram resíduos de mostardas de enxofre, do qual faz parte o gás mostarda.
At #Debaga camp today, StylianidesEU</a> comforts a woman who escaped <a href="https://twitter.com/hashtag/ISIS?src=hash">#ISIS</a> in <a href="https://twitter.com/hashtag/Nineveh?src=hash">#Nineveh</a>. Tens of thousands are uprooted <a href="https://t.co/TtiEStLw6o">pic.twitter.com/TtiEStLw6o</a></p>&mdash; ECHO MiddleEast (ECHO_MiddleEast) 29 de julho de 2016