Iraque: Bashiqa e Nimrud foram libertadas do Daesh
Comentários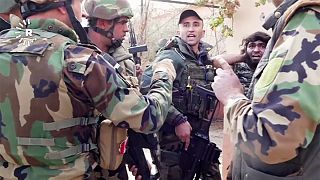 As forças Peshmerga divulgaram um vídeo onde mostram a detenção de um alegado militante do grupo Estado Islâmico na cidade de Bashiqa, no norte do Iraque.
A operação faz parte da ofensiva militar, iniciada há mais de duas semanas pelas tropas iraquianas para reconquistar a cidade de Mossul, no norte do país.
São já várias as localidades que foram libertadas. Agora, as forças iraquianas estão a limpar a cidade de Bashiqa e a antiga cidade de Nimrud, na bacia do rio Tigre, dos explosivos para que a população possa regressar.
Ancient city of #Nimrud Free Of Daesh, #Iraq-i Flag Over Its Buildings .#UKiniraqpic.twitter.com/aWUfLxn6Qw

— UK in Iraq (@UKinIraq) November 14, 2016
No entanto, os combates intensificam-se. Os militantes do Daesh estão acantonados em vários bairros do seu bastião, Mossul.
Como retaliação, pelo menos seis civis e seis bombistas suicidas morreram, esta segunda-feira, num atentado dos radicais islâmicos numa aldeia perto da cidade santa xiita de Karbala, a sul de Bagdade.
Horas depois, a explosão de dois carros armadilhados, junto de dois postos de controlo da polícia, mataram pelo menos oito pessoas e feriram mais de vinte, na cidade Fallujah.
Desde o início da ofensiva militar, em meados de outubro, as forças iraquianas afirmam ter eliminado mais de três centenas de jihadistas.
Iraq troops vow to tighten noose on Islamic State in Mosul https://t.co/s2LPxmsBjR

— Reuters Top News (@Reuters) November 13, 2016