Equador: partido do presidente eleito pede recontagem de votos
Comentários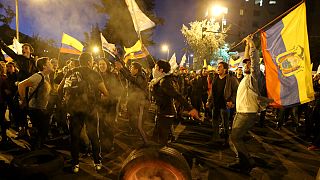 Reviravolta impressionante no Equador, o partido Aliança País, do presidente eleito, o socialista Lenin Moreno, pediu, quarta-feira, uma recontagem imediata dos votos do escrutínio de domingo.
The ruling party's Lenin Moreno is declared the winner of Ecuador's presidential election https://t.co/UEiQKbbTOApic.twitter.com/JxCaOTxhGq

— Bloomberg Politics (@bpolitics) April 5, 2017
O anúncio do Aliança País, do presidente Rafael Correa, que está de saída, surge após dias de protestos, desde que o candidato da direita perdeu as eleições.
"Este exercício de recontagem dos votos, que apoiamos e pedimos ao Conselho Nacional Eleitoral, deve ser feito o mais rapidamente possível. Este exercício deve fortalecer a democracia equatoriana e isolar, para sempre, todos esses mentirosos e malfeitores que a nossa nação não merece," afirmou a secretária-geral do Aliança País, Doris Solis.
Segundo o Conselho Nacional Eleitoral, após estarem contados 99,65% dos votos, Lenin Moreno conseguiu 51,16% dos votos, contra 48,84% do banqueiro Guillermo Lasso, candidato do partido Criar, de direita.
Supporters of Ecuadorean presidential candidate Guillermo Lasso, who has rejected election result, protest in Quito https://t.co/LgXi6xlo5Ypic.twitter.com/4Ap0vMuTMj

—

AFP

news agency (@AFP) April 5, 2017
Ainda assim, Lasso contestou os resultados, alegou fraude e apelou às manifestações.
O Aliança País acusa o candidato do Criar de incitar à violência e pediram que se desculpe.
A woman in fur, with a poodle next to burnt tires at the LassoGuillermo</a> protests. It sums it really up xD <a href="https://t.co/Xo1QKtBjqc">pic.twitter.com/Xo1QKtBjqc</a></p>&mdash; Nicolaj (Nicolaj_Gericke) April 4, 2017