Museu de Design de Londres assinala dez anos da morte de artista Amy Winehouse
Comentários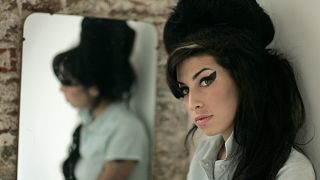 Direitos de autor

Matt Dunham/Copyright 2021 The Associated Press. All rights reserved.
 Dez anos após a morte de Amy Winehouse, o Museu de Design em Londres vai inaugurar uma exposição em homenagem à artista.
"Amy: para além do palco" é realizada em colaboração com a família da cantora e apresenta letras manuscritas inéditas, guitarras, vestidos e, claro, a música.
A exposição recorda a dimensão do legado da artista na indústria da música e da moda.
O pai de Amy, Mitch Winehouse, participou na pré-abertura da exposição, que abre ao público em 26 de novembro e decorre até 10 de abril do próximo ano.
Nascida em Londres em 1983, Winehouse alcançou a fama com o lançamento do álbum "Back to Black", 2006. 
Amy Winehouse morreu de intoxicação por álcool em julho de 2011, após uma longa luta contra o uso de drogas.