UE reforça as sanções contra a Coreia do Norte
Comentários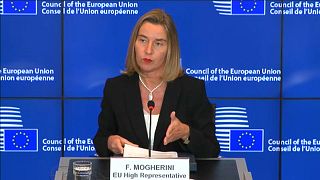 Face ao risco de colapso do acordo nuclear com o Irão, a Comissão Europeia tenta assumir o protagonismo para travar a proliferação nuclear.
Além da visita, em breve, aos Estados Unidos, a chefe da diplomacia da União Europeia, Federica Mogherini, confirmou o aumento das sanções contra o regime norte-coreano.
"Estamos a elevar a pressão económica e diplomática por parte da União Europeia sobre a Coreia do Norte para um nível máximo. A Coreia do Norte é o país do mundo ao qual a União aplica o regime mais duro de sanções", referiu Federica Mogherini, aos jornalistas.
North Korea has over the years mastered the art of masking its international economic activity https://t.co/PjNpAhy4pg

— Wall Street Journal (@WSJ) October 16, 2017
A decisão foi tomada por unanimidade numa reunião dos 28 ministros dos Negócios Estrangeiros da União Europeia, segunda-feira, no Luxemburgo, e pretende desencorajar o regime de Pyongyang de efetuar novos testes com material nuclear.
"Além das sanções, a União Europeia inicia uma ofensiva diplomática junto de vários países para pressionarem o regime norte-coreano e a China é um dos países mais importantes nesse esforço", acrescentou Sandor Sziros, enviado da euronews ao Luxemburgo.