Macedónia tenta controlar entrada de migrantes
Comentários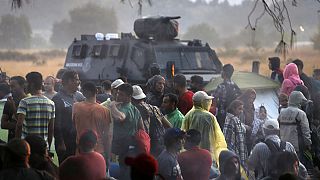 O primeiro comboio com cerca de 600 refugiados seguiu de Gevgelija, na Macedónia, na manhã deste sábado, a caminho da fronteira sérvia.
São apenas uma pequena parte das centenas de migrantes que passaram a noite junto à fronteira grega, à espera que os deixem entrar na Macedónia e seguir viagem rumo à Sérvia.
As autoridades da Macedónia enviaram tropas para controlar o afluxo de migrantes, a maioria sírios, e anunciaram que vão deixar entrar 300 pessoas de duas em duas horas.
Tear gas, barbed wire at #Macedonia border. Are we really that afraid of families fleeing war? http://t.co/ORczRLdxFvpic.twitter.com/mpxafHg9dc

— Amnesty UK (@AmnestyUK) August 21, 2015
A notícia de que a Hungria está a erguer uma barreira de quatro metros na fronteira com a Sérvia faz acelerar o passo aos clandestinos. O governo húngaro justifica a decisão recordando que desde do início do ano já foram recebidos no país mais de 100 mil migrantes e refugiados, mais do dobro dos 43 mil que entraram em 2014.
A situação é dramática e a Macedónia declarou estado de emergência, confrontada com milhares de clandestinos sem meios de subsistência que fogem a conflitos ou procuram melhores condições de vida no espaço Schengen, a zona europeia de livre circulação.
A agência da ONU para os refugiados apela à UE por ajuda humanitária e proteção legal para estes milhares de pessoas.
Entretanto, há quem se questione sobre as implicações do vocabulário que os média usam para falar desta crise humanitária.
My piece on a controversial move by Al Jazeera. We will no longer say Mediterranean "migrants" http://t.co/GnGEIVriaWpic.twitter.com/QRpmah57vS

— Barry Malone (@malonebarry) 20 Août 2015