Jaguar F-Pace desafia a gravidade em Frankfurt
Comentários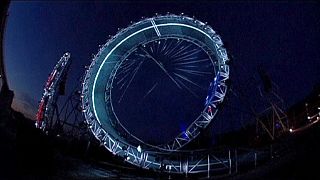 Só chega ao mercado na próxima primavera, mas o Jaguar F-Pace já começou a bater recordes. No salão automóvel de Frankfurt, o primeiro SUV da marca britânica bateu o recorde para o maior loop alguma vez feito com um carro.
The impossible, made possible. #FPACE breaks the 360 @GWR title. Find out more: http://t.co/w29F6kSfUopic.twitter.com/8l1l6ZgZhs

— Jaguar (@Jaguar) September 14, 2015
O todo-o-terreno urbano da Jaguar desafiou a gravidade e realizou um círculo vertical com 19,08 metros de diâmetro.