Taça do Mundo de Esqui Alpino: Jansrud vence primeira prova de Slalom Gigante paralelo
Comentários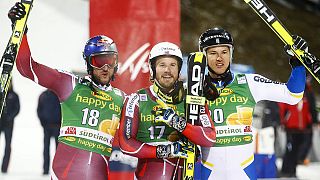 Kjetil Jansrud bateu Aksel Lund Svindal na final da prova de Slalom Gigante paralelo, da Taça do Mundo de Esqui Alpino. Num duelo entre noruegueses, Jansrud foi o mais rápido em Alta Badia, em Itália.
akselsvindal</a> and <a href="https://twitter.com/Kjansrud">Kjansrud top the podium of this first parallel giant slalom followed by slalom_myhrer</a> <a href="https://twitter.com/hashtag/fisalpine?src=hash">#fisalpine</a> <a href="https://t.co/7pasWNw0p4">pic.twitter.com/7pasWNw0p4</a></p>&mdash; FIS Alpine (fisalpine) 21 dezembro 2015
Este foi o oitavo pódio, nos últimos quatro dias para esquiadores noruegueses, que estão a dominar em todas as categorias. Nesta que foi a primeira prova de Slalom Gigante paralelo grandes nomes do esqui como Marcel Hirscher, Ted Ligety and Felix Neureuther não chegaram sequer ao oito primeiros.
Na discussão pelo terceiro e quarto lugar estiveram o sueco Andre Myher e o alemão Dominik Schwaiger. Myher acabou por vencer esta corrida com uma margem confortável.
Este novo formato de corrida foi aplaudido por atletas e por adeptos dos desportos de inverno uma vez que torna ainda mais emocionantes e competitivas as provas de Slalom Gigante.
Resultados:
1º JANSRUD Kjetil (NOR)
2º SVINDAL Aksel Lund (NOR)
3º MYHRER Andre (SWE)
4º SCHWAIGER Dominik (GER)
5º PINTURAULT Alexis (FRA)
6º BLARDONE Massimiliano (ITA)
7º CAVIEZEL Gino (SUI)
8º FAIVRE Mathieu (FRA)
9º JITLOFF Tim (USA)