Golden State Warriors quebra recorde de vitórias do Chicago Bulls
Comentários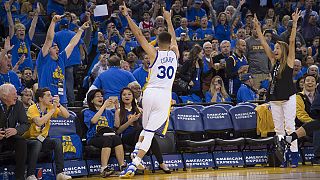 Noite histórica na NBA. No último jogo da carreira de Kobe Bryant, o Golden State Warriors estabeleceu um novo recorde de vitórias na temporada regular, ao derrotar o Memphis Grizzlies por 125 a 104.
Congrats to the Warriors</a>, a great group of guys on and off the court. If somebody had to break the Bulls&#39; record, I&#39;m glad it&#39;s them.</p>&mdash; President Obama (POTUS) 14 de abril de 2016
Os Warriors bateram assim o recorde de vitórias do Chicago Bulls de Michael Jordan em 95/96, terminando a época regular com 73 vitórias e nove derrotas.
A vitória sobre o Memphis aconteceu principalmente graças ao brilhante desempenho de Stephen Curry, que conseguiu 46 pontos, incluindo 10 triplos. Curry tornou-se o primeiro jogador da história da NBA a alcançar a marca de 400 arremessos certos de três pontos na mesma temporada.
Tonight was special. #73. We did something thats never been done in the History of the league. Together. So… pic.twitter.com/UuQkVL4RoR

— Stephen Curry (@StephenCurry30) 14 de abril de 2016
Os Warriors mostraram que são nos playoff os candidatos mais fortes à reconquista do título.
Steve Kerr, que fazia parte da equipa que estabeleceu o recorde de vitórias há 20 anos, comanda agora como técnico um Warriors que se impõe como o grande favorito ao bicampeonato da NBA.
Os Warriors classificaram-se em primeiro na Conferência Oeste e enfrentarão o Houston Rockets, oitavo colocado, na primeira rodada de playoffs rumo ao bicampeonato.