Ex-Presidente do Chade Hissène Habré condenado no Senegal por crimes contra a humanidade
Comentários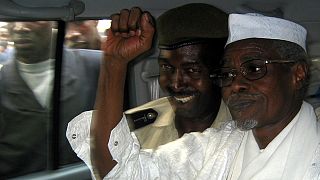 O ex-presidente do Chade Hissène Habré foi esta segunda-feira condenado, no Senegal, a prisão perpétua.
A condenação do Tribunal Especial Africano, criado em 2013 pela União Africana, teve por base vários crimes contra a humanidade, cometidos entre 1982 e 1990, incluindo tortura e assassinato de vários opositores políticos.
#HissèneHabré guilty of atrocities, jailed for life. ReedBrody</a> on the long road to justice <a href="https://t.co/Z0Hymz1ao0">https://t.co/Z0Hymz1ao0</a> <a href="https://t.co/MvGgafNkf5">pic.twitter.com/MvGgafNkf5</a></p>&mdash; Human Rights Watch (hrw) 30 de maio de 2016
O tribunal foi "convencido" pelo testemunho de Khadija Hassan Zidane, que, durante o processo, afirmou ter sido vítima de violação cometida por Hissène Habré.
A decisão do tribunal sediado no Senegal põe termo a uma batalha de 16 anos, liderada por vitimas e ativistas pelos direitos do homem, para levar à justiça Hisséne Habré.