EUA: Reserva Federal deverá anunciar subida das taxas de juro
Comentários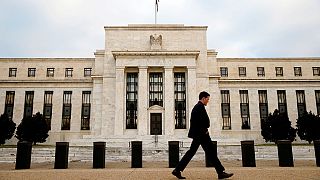 A Reserva Federal norte-americana iniciou uma reunião, que termina esta quarta-feira, na qual se espera que seja decidida uma subida da taxa de juro diretora, a primeira desde dezembro do ano passado e apenas a segunda desde a crise financeira de 2008.
A maioria dos analistas antevê uma subida de um quarto de ponto percentual nas taxas de juro, que estão atualmente num intervalo entre 0,25% e 0,5%.
Em novembro, a presidente da Fed, Janet Yellen, tinha indicado que uma subida das taxas de juro poderia acontecer "em breve" e os dados da economia americana reforçam essa ideia: o PIB norte-americano cresceu 3,2% no terceiro trimestre e o desemprego caiu em novembro para mínimos de nove anos.
WASHINGTON The Federal Reserve inaugurates the #Trump era this week with a near-certain interest rate… https://t.co/JNes8oCoMP

— Spectrum News (@ProNewsViews) December 12, 2016
Da reunião, os investidores esperam também indicações sobre eventuais impactos da eleição de Donald Trump nas previsões económicas da Reserva Federal.
If you have a credit card or savings account, invest in stocks or bonds, want to buy a home or a car, pay attention https://t.co/hEB22VPUwO

—

CNNM

oney (@CNNMoney) December 13, 2016