Venezuela: Presidente pede a ST que reveja decisão que esvazia os poderes do Parlamento
Comentários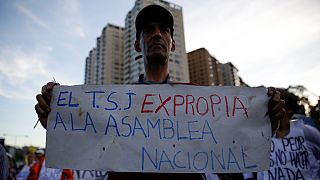 O presidente da Venezuela, Nicolas Maduro, pediu ao Supremo Tribunal do país para rever a decisão de assumir o poder legislativo da Assembleia Nacional.
Num comunicado, transmitido na televisão estatal e perante o Conselho da Defesa da Nação, Maduro afirmou que apoiava uma revisão da decisão do tribunal para "manter a estabilidade institucional".
#COMUNICADO Consejo de Defensa de la Nación plantea resolución de controversia entre Poderes Públicos https://t.co/e2UyRW5d5W

— Prensa Presidencial (@PresidencialVen) April 1, 2017
O Supremo Tribunal, próximo do presidente aprovou, na quarta-feira, as decisões 155 e 156 que privam os deputados venezuelanos de imunidade parlamentar e, ao mesmo tempo, apropriam-se do poder legislativo do Parlamento.
A Assembleia é dominada pela oposição do regime de Caracas, desde 2015.
Na sexta-feira, a Procuradora-Geral da Venezuela, Luísa Ortega Díaz, criticou a decisão do Supremo Tribunal.
A magistrada afirmou que é uma clara "violação da ordem constitucional e um desrespeito pelo modelo do Estado e pela Constituição".
#UPDATE Venezuela's attorney general surprisingly breaks ranks with President Nicolas Maduro https://t.co/SpABzCsP1M

—

AFP

news agency (@AFP) March 31, 2017
A decisão do Supremo mereceu a condenação da oposição que convocou manifestações de protesto para este sábado.
Amid protests, Venezuela's Maduro seeks to defuse court row https://t.co/wvnWMPKLnRpic.twitter.com/fNzPzNrdJO

— Reuters Venezuela (@ReutersVzla) April 1, 2017
A Venezuela vive uma crise profunda. A queda do preço do petróleo fez com que a economia entrasse em recessão, retrocedendo 11,3%.