Coreia do Norte lança míssil de porte médio
Comentários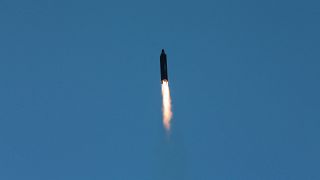 A Coreia do Norte concretizou mais um ensaio balístico junto à costa noroeste, perto de Pukchang, com o que foi identificado como um míssil balístico de porte médio, segundo indicações militares da Coreia do Sul.
Na celebração do aniversário do fundador da dinastia coreana, em abril, Kim Jong-un havia prometido uma "ação espetacular", o que fez a tensão internacional subir.
We strongly condemn missile test in #NorthKorea! The international community mustn't and won't get used to tests like these.

— GermanForeignOffice (@GermanyDiplo) May 21, 2017
Agora parece estar a dar continuidade à série de ensaios balísticos dos últimos meses, condenados pelos Estados Unidos, depois de não ter gostado de ver o porta-aviões americano USS Carl Vinson instalado na Coreia do Sul.
A reação internacional a mais um teste já vai tendo eco, com a Coreia do Sul a reagir publicamente e a Alemanha a condenar mais um ensaio balístico.