2 mortos na ilha grega de Kos após sismo na Turquia
Comentários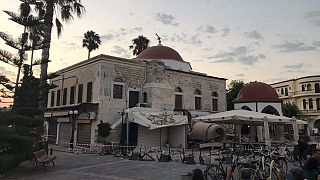 Pelo menos duas pessoas morreram e várias ficaram feridas na ilha grega de Kos após um sismo de Magnitude de 6.7, na escala de Richter, que atingiu a zona de Bodrum, no sudoeste da Turquia.
2. #Greece 6.7 or 6.9 magnitude Earthquake. 2 dead. First images out of #Kos, credit: https://t.co/GfmXtx6DDDpic.twitter.com/PngaswiUWt

— Το Ρωμέικο (@RomeikoCalendar) July 21, 2017
A informação está a ser veiculada pela agência de notícias Reuters que cita o presidente da Câmara Municipal da ilha de Kos, George Kyritsis.
catastrophe in the picturesque main square of #Kos town #earthquakepic.twitter.com/5lbyaX2HzT

— αλεπούδα (@alepouda) July 21, 2017
As vítimas mortais terão perecido após o teto do bar, onde estavam, ter abatido.
Segundo o Instituto Geológico norte-americano, o tremor de terra foi sentido por volta das 01:30 locais, desta sexta-feira (23:30 de quinta-feira em Lisboa). O epicentro registou-se a sudeste da cidade turca de Bodrum e a 16,2 quilómetros a leste de Kos, na Grécia.
Video from kos #greece#Earthquakepic.twitter.com/eOhRTU0nbO

— Global News (@GlobalZarfati) July 20, 2017