Coligação internacional trava comboio de membros do Daesh
Comentários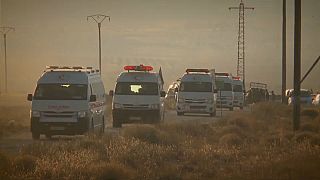 A coligação antijihadista, liderada pelos Estados Unidos da América, realizou vários ataques aéreos para impedir que um comboio de autocarros, com membros do grupo Estado Islâmico, chegasse à cidade de Bukamal, em Deir Ezzor, no leste da Síria, junto à fronteira com o Iraque.
Os jihadistas provinham do Líbano e estavam a ser deslocados, com as famílias, ao abrigo de um acordo com o grupo xiita libanês Hezbollah.
O enviado especial norte-americano junto da coligação internacional na Síria e no Iraque afirmou, no Twitter, que "os terroristas do Daesh devem ser mortos no terreno e não, atravessar toda a Síria, e levados em autocarros até à fronteira iraquiana sem o consentimento do Iraque".
Irreconcilable #ISIS terrorists should be killed on the battlefield, not bused across #Syria to the Iraqi border without #Iraq's consent 1/2

— Brett McGurk (@brett_mcgurk) August 30, 2017
Brett McGurk escreveu, ainda, que "a nossa coligação vai assegurar que esses terroristas não possam entrar no Iraque ou escapar do que resta do seu 'califado'".
Our coalition</a> will help ensure that these terrorists can never enter <a href="https://twitter.com/hashtag/Iraq?src=hash">#Iraq</a> or escape from what remains of their dwindling "caliphate." 2/2</p>— Brett McGurk (brett_mcgurk) August 30, 2017
O acordo entre o Daesh e o Hezbollah provocou a indignação do Iraque e críticas dos Estados Unidos que classifica, também, o grupo libanês como terrorista.