EUA: candidato ao Senado, Roy Moore, acusado de assédio sexual
Comentários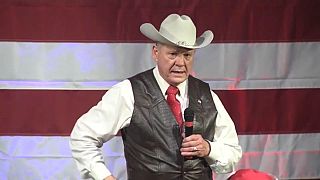 Nos Estados Unidos, uma mulher acusou Roy Moore, o candidato republicano para o Senado pelo estado do Alabama, de assédio sexual.
Segundo a acusação, Roy Moore teria iniciado o contacto sexual quando ela tinha 14 anos de idade e Moore teria 32 anos.
Roy Moore, de 70 anos de idade, rejeita as acusações descrevendo-as como falsas e um ataque político.
The forces of evil will lie, cheat, steal –– even inflict physical harm –– if they believe it will silence and shut up Christian conservatives like you and me. (2/4) #ALSen

— Judge Roy Moore (@MooreSenate) November 9, 2017
As acusações suscitaram reações de vários quadrantes.
A Casa Branca afirma que Moore deverá afastar-se da corrida para o Senado se as alegações se provarem verdadeiras.
Roy Moore é um dos candidatos favoritos para ocupar o lugar deixado vago pelo Procurador-geral Jeff Sessions. O seu rival na corrida é o candidato democrata Doug Jones.