"Sim" de Obama à permanência do Reino Unido na UE cria polémica
Comentários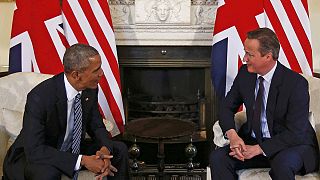 Barack Obama chegou ao Reino Unido e já instalou a polémica. Ao jornal britânico The Telegraph, o presidente dos EUA, deixou claro que apoia a permanência do Reino Unido na União Europeia.
Obama calls on Brits to stay in the EU https://t.co/2mDr53yYOEpic.twitter.com/E2IHiUObVa

— Reuters TV (@ReutersTV) 22 de abril de 2016
Sem papas na língua, Obama afirmou que "a União Europeia não diminui a influência britânica, pelo contrário amplia-a. E acrescentou que "uma Europa forte não é uma ameaça para a Grã-Bretanha, enquanto líder em termos globais, mas sim uma mais-valia".
Britain must vote to remain in the European Union, writes BarackObama</a> <a href="https://t.co/dKWXDEaRQV">https://t.co/dKWXDEaRQV</a> <a href="https://twitter.com/hashtag/ObamaInUK?src=hash">#ObamaInUK</a> <a href="https://t.co/NCV0A90vFB">pic.twitter.com/NCV0A90vFB</a></p>&mdash; Telegraph News (TelegraphNews) 22 avril 2016
The US is one of our closest allies. So it's important to hear Barack Obama on why we should remain in the EU: https://t.co/ExL0KlMw7S

— David Cameron (@David_Cameron) 22 de abril de 2016
David Cameron saudou as palavras do chefe de Estado dos EUA, já Boris Johnson, presidente da Câmara de Londres e defensor da saída do Reino Unido da UE, criticou-o:
"Como o presidente disse, esta manhã, ao Daily Telegraph, o importante para os EUA é manter o continente europeu unido depois dos horrores da Segunda Guerra Mundial e devido à necessidade de assegurar a paz. Para mim, o problema é que a União Europeia está a causar tais tensões e stress que a permanência é a opção insegura", afirmou Johnson.
'Part-Kenyan': #BoJo makes 'offensive' attack on Barack https://t.co/2G32PaRa3D#borisjohnsonpic.twitter.com/R9V8jjut7V

— London24 (@london24) 22 de abril de 2016
Os britânicos votam, a saída ou permanência do Reino Unido na União Europeia, a 23 de junho. O desfecho desta consulta pública é, para já, uma incógnita. Sondagens feitas no início da campanha para o referendo, no último dia 15, davam uma diferença de um por cento entre o "Sim" e o "Não", com vantagem para o primeiro.
O "Sim" à União Europeia
Support #UKtoStay in the #EU, add a badge to your profile pic now! https://t.co/j7ReVXXWSF#StrongerIN#Brexitpic.twitter.com/uGFZN46bui

— UKtoStay in the EU (@uktostayeu) 28 mars 2016
O "Não" à permanência na UE
READ: Can we secure a brighter future outside of political union? Yes we can! #LeaveEUhttps://t.co/VjqF8iHy1ipic.twitter.com/TaE3rWzkQi

—

LEAVE

.EU (@LeaveEUOfficial) 22 avril 2016