Furacão: Honduras e Belize preparam-se para a chegada o "Earl"
Comentários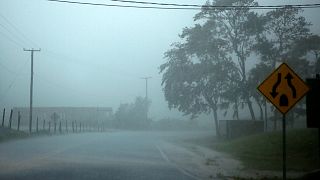 A tempestade tropical "Earl" transformou-se num furacão e deve atingir a América Central, esta quinta-feira.
Station cameras captured a tropical system in the Caribbean yesterday. Today it formed into Tropical Storm Earl.https://t.co/FYy5s9jGkq

— Intl. Space Station (@Space_Station) August 2, 2016
Segundo o Centro Nacional de Furacões dos Estados Unidos da América, o "Earl" desloca-se para oeste e está localizado a 110 quilómetros a noroeste da ilha Roatan, nas Honduras, e a 240 quilómetros a este da cidade de Belize, no Belize.
As rajadas de vento podem atingir os 121 quilómetros/hora nas Honduras, podendo atingir os 241 quilómetros/hora quando passar pelo Belize.
O coordenador nacional de emergências do Belize, Shelton DeFour, afirmou que estão preparados mais de mil refúgios, "que os profissionais de busca e salvamento estão a postos e que colocaram grande parte dos funcionários públicos em locais-chave, em particular, na cidade de Belize."
O Centro Nacional de Furacões norte-americano anunciou que a trajetória do "Earl" inclui o Belize e as Honduras, podendo seguir depois para a Península de Iucatão, no México ou para o norte da Guatemala.
A Hurricane Watch & Tropical Storm Warning have been issued for Belize & portions of the Yucatan Peninsula #Earlpic.twitter.com/Fmyp2Hfmgx

—

NHC

Atlantic Ops (@NHC_Atlantic) August 2, 2016
O "Earl" já fez vítimas.
88 pescadores tiveram de ser resgatados de uma embarcação em apuros, ao largo da costa das Honduras. Segundo as autoridades do país, dois pescadores estão desaparecidos.
Segundo o centro meteorológico norte-americano, o "Earl" deverá diminuir de intensidade quando tocar em terra.