Reino Unido: Diana James é a nova líder do UKIP
Comentários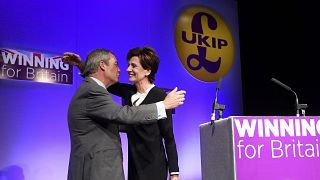 Foi com visível, felicidade e emoção, que Diana James assumiu a liderança do UKIP, o Partido para a Independência do Reino Unido, que desempenhou um papel importante no referendo pela saída do país da União Europeia. A britânica, de 56 anos, obteve quase 50 por cento dos votos e sucede assim a Nigel Farage, que se mantém como representante do país no Parlamento Europeu.
"Só para lembrar que fomos a terceira força mais votada nas legislativas. Nós movemos, verdadeiramente, montanhas no panorama político. Isto apesar de haver a possibilidade de sermos prejudicados por esta forma imperfeita de escrutínio que, devo dizer, fracassou moralmente, o escrutínio uninominal, por maioria, em apenas uma volta. Mas ninguém pode tirar ao UKIP a rutura que provocou", afirmou Diana
James.
It is an absolute honour to be elected as UKIP</a> Leader. Thank you. <a href="https://t.co/HCFdo2ZMdo">pic.twitter.com/HCFdo2ZMdo</a></p>&mdash; Diane James (DianeJamesMEP) 16 de setembro de 2016
A primeira mulher a liderar a formação, não era a favorita à vitória. Steven Woolfe era o homem que se esperava que substituísse Farage mas acabou afastado por ter entreguado a sua candidatura com 17 minutos de atraso.
Congratulations to DianeJamesMEP</a>. Great to be joined with so many UKIP friends and colleagues. <a href="https://t.co/EQ5E1pg5at">pic.twitter.com/EQ5E1pg5at</a></p>&mdash; Steven Woolfe MEP (Steven_Woolfe) 16 de setembro de 2016