Economia do Reino Unido dá sinais de abrandamento
Comentários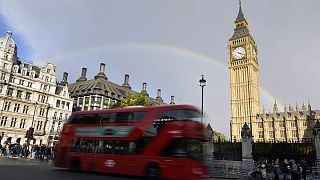 A economia do Reino Unido dá sinais de abrandamento, antes da separação com a União Europeia.
O índice britânico Markit/CIPS de Gestores de Compras de Serviços – PMI-, divulgado esta sexta-feira, caiu de 54,5, em janeiro, para 53,3, em fevereiro, o nível mais baixo desde setembro.
A five-month low for PMI services data is the latest sign that the UK economy may be losing momentum https://t.co/ss4WdHUyenpic.twitter.com/itdneQ5XnT

— Financial Times (@FT) March 3, 2017
Apesar de a economia ter acelerado, após o referendo que ditou o Brexit, em junho, os economistas temem que a crescente inflação comece a pesar nos consumidores e nas margens das empresas.
"O PMI caiu para um mínimo de cinco meses, mas creio que devemos ter em conta o pico que tivemos desde o voto do Brexit e a queda da libra esterlina, que, realmente impulsionaram a atividade económica. Por isso, há uma grande preocupação de que já tenhamos visto todo o crescimento que há para haver, no que diz respeito à economia do Reino Unido", afirma o analista Chris Beauchamp.
Algumas das empresas sondadas registaram uma quebra no consumo dos britânicos, que começa a afetar as empresas de serviços, da produção e da construção.
UK services firms feel consumer slowdown, growth at five-month low – PMI: https://t.co/hnkK92S7gCpic.twitter.com/yEySpqXUHc

— Reuters UK (@ReutersUK) March 3, 2017
A 8 de março, o ministro das Finanças, Phillip Hammond, apresenta o orçamento anual. Os analistas acreditam que os valores vão reforçar a ideia de que o forte crescimento que o Reino Unido experimentou, nos últimos meses, vai terminar.