Avião Solar Impulse à beira de concluir volta ao mundo ecológica
Comentários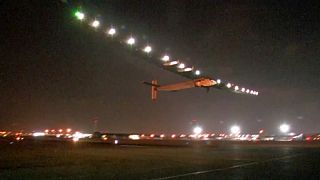 O avião Solar Impulse 2 descolou esta noite do Cairo, no Egito, rumo à 17a e última etapa da viagem à volta do mundo, movida apenas a energia solar.
Uma partida inicialmente prevista para a semana passada e adiada devido aos ventos fortes e a problemas de saúde do piloto e aventureiro suíço Bertrand Piccard.
Here I come #AbuDhabi! I can't believe this will be my last flight of the journey. What a ride for #futureisclean! pic.twitter.com/hCzElBlMD8

— Bertrand PICCARD (@bertrandpiccard) July 23, 2016
O aparelho deverá concluir o percurso de mais de 30 mil quilómetros, dentro de 48 horas, em Abu Dabi, nos Emirados Árabes Unidos, de onde iniciou a inédita volta ao globo no dia 9 de Março do ano passado.
Uma viagem marcada pela primeira travessia transatlântica, sem uma única gota de combustível, entre Nova Iorque e Sevilha, em 71 horas e 8 minutos.