Convenção: Obama elogia Clinton e emociona democratas
Comentários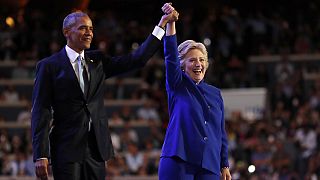 O Presidente norte-americano está pronto para passar o testemunho, de preferência, a Hillary Clinton. O discurso de Barack Obama no terceiro dia da Convenção Nacional Democrata foi um dos mais aplaudidos. Para o democrata, a candidata do partido na corrida à Casa Branca tem tudo para vencer.
"Não importa o quanto as pessoas a tentam deitar abaixo, ela nunca desiste. É essa a Hillary que eu conheço e que admiro. Por isso, posso dizer, que nunca existiu um homem ou uma mulher – nem mesmo eu ou Bill Clinton – mais qualificado para servir como Presidente dos Estados Unidos da América" afirma Obama.
Maison Blanche: Obama veut conduire "Hillary" à la victoire https://t.co/xTnuqCJmAH#AFPpic.twitter.com/fJ8KoEhcjz

— Agence France-Presse (@afpfr) 28 juillet 2016
Um discurso de 45 minutos onde não faltaram elogios a Hillary Clinton e críticas ao candidato republicano, Donald Trump.
"Os Estados Unidos mudaram com os anos. Mas os valores que me foram transmitidos pelos meus avós não desapareceram. Estão, pelo contrário, mais fortes do que nunca e continuam a ser acarinhados pelas pessoas de diferentes partidos e religiões. É, por isso, os que ameaçam os nossos valores – sejam eles fascistas, comunistas, jihadistas ou demagogos – vão acabar por cair" acrescenta Obama.
WATCH: 'I am more optimistic about the future of America than ever before' – Obama at DNC: https://t.co/9cha1Bw94nhttps://t.co/dAeN90o87m

— Reuters Top News (@Reuters) 28 juillet 2016
Essa é pelo menos a expectativa do Partido Democrata nas presidenciais de novembro. No entanto, e para já nas sondagens é Hillary Clinton que perde para Donald Trump. Um cenário que segundo os analistas se pode inverter no final da Convenção Democrata.