"Evacuação de Alepo pode terminar esta noite"
Comentários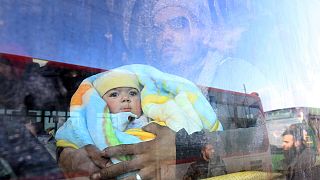 "Ao ritmo atual a evacuação de Alepo pode terminar esta noite".
A convicção é de Munir al-Sayal, presidente do braço político da Ahrar al Sham, o segundo maior grupo rebelde sírio, citado pela agência Reuters.
Desde que as operações de evacuação recomeçaram esta noite, saíram da cidade 20 autocarros e 600 viaturas ligeiras em direção a Alepo rural e à província de Idlib.
Ainda segundo os rebeldes, milhares de combatentes e famílias ainda se encontram naquela que já foi a maior cidade do país.
O processo tem sido marcado por várias interrupções, especial devido a desentendimento entre a oposição armada e o lado iraniano leal ao governo sírio.
The last hospital in Eastern #Aleppo is now empty. All patients have been evacuated, along with other people in need of urgent medical care. pic.twitter.com/QyAq8IpkZc

—

ICRC

Syria (@ICRC_sy) December 21, 2016
Outras dificuldades são o número elevado pessoas envolvidas e o mau tempo que se abateu sobre a região.
Além de tornar o transporte difícil e lento, a neve está também a ter impacto sobre muitos refugiados têm que enfrentar o tempo agreste e frio.
A heavy snow storm has hit north-west Syria – adding to the misery for children and families caught up in #Aleppo. https://t.co/sdA6tq2VDLpic.twitter.com/KX5i2J1lnn

— Save the Children UK (@savechildrenuk) December 21, 2016